Tourmix Info
Tourmix is a unique travel portal which allows you to individually create the island hopping tour of your dreams. Flexibly choose between the different islands, hotels as well as duration and decide whether you need transfers.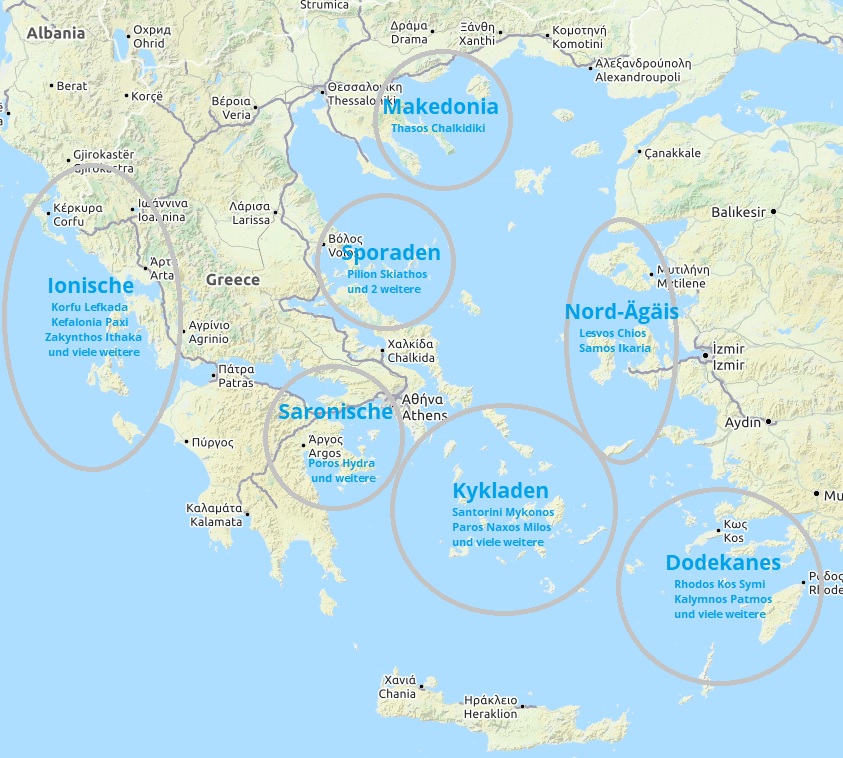 Ionian Islands
North Aegaeis islands
Apply Color Scheme

Hello and welcome to Tourmix.eu !
In this video you are going to get a lot of exciting information about a very special type of travel. A type of travel which allows individual planning and also very personal experiences for everybody. Island hopping. This way of travelling is possible worldwide. Especially in Greece you can choose between numerous island groups.
[embedyt] http://www.youtube.com/watch?v=O-zopxLtjOI[/embedyt]
The ferry connections between the island become better and better, so that you can for instance discover many different destinations, cultures and also landscapes within just 12 days. Furthermore from one island to another you can enjoy new and delicious specialities in the taverns and gastronomy.
Immerse into a fascinating island world only 2 to 3 flight hours away from you.
The most famous paradise for island hopping worldwide are the Greek Cycladic islands. The tours to the Cyclades in our portfolio offer a selection between the most beautiful of these islands.
As an example we are now presenting the probably most popular tour through the Cyclades. You will get the ferry tickets either directly upon arrival or one day before at the respective hotel. You will be driven to the port on time prior to each ferry trip and after arriving on the other island the tour guides will meet you immediately. They will also accompany you to your individually selected hotel.
Usually this tour begins with the direct arrival at the airport of Mykonos. There the indescribable island feeling will thrill you at once. Among the benefits of the holiday paradise Mykonos are more than 3.000 hours of sunshine per year, golden sandy beaches with crystal clear water, as well as the traditional architecture of the Cyclades with the typical main colours white and blue. Furthermore there is the immediate vicinity to the ancient island Delos, whose ruins attract innumerable visitors as well. The nightlife on Mykonos is unique. Here party and fun join glamour and high society. In order to discover as much as possible, we recommend you to stay at this exciting place for about 3 days.
From Mykonos you will move on to Paros, where a stay of 3 days is ideal as well. By ferry you can reach your next holiday destination within 2 to 4 hours depending on the connection. The island presents itself as a holiday paradise with beautiful beaches, villages adorned with flowers and many historic sights. Especially the neighbouring island Antiparos is a fantastic excursion destination thanks to its white beaches. Paros demonstrates flexibility with calm corners to relax and places with a quite active nightlife.
After these exciting days you will continue to Naxos. This island; as opposed to the rest of the Cyclades; is very lush and can be reached within less than one hour thanks to the ferry. Besides the green and versatile landscape, the white beaches are well worth seeing. They rank among the most beautiful of the Cyclades. In order to try several restaurants and specialities here, we recommend you to stay for about 4 days.
You will spend the last 4 unforgettable days of holiday on the stunning island Santorini. The ferry trip takes 2 to 4 hours as well depending on the connection. There you will be expected by a fascinating island. The crater side certainly is the highlight of this island. The typical houses of Thira, the island capital, have a unique architecture. They are small and whitewashed, with vaults and many tiny windows. Numerous boutiques, restaurants and souvenir shops can be found in the narrow streets. Experience breathtaking port taverns, mediterranean lifestyle and an absolutely unforgettable island feeling.
Follow the trails of the most beautiful Greek islands now with Tourmix.eu!