Here at the specialist since 1988 island hopping Dodecanese individually and flexibly combine according to your own needs.
Individual island hopping Dodecanese islands is best booked with a specialist with experience in Greece travel. Don't fancy crowded beaches and lots of people in noisy places? On the trail of a way of life with living traditions on kilometre-long island beaches. In the south-eastern Aegean Sea, in the sunniest part of Greece, lies the archipelago of the Dodecanese, once made up of twelve main islands and numerous smaller ones, each with its own distinctive character.
---

⇐ 1min about the islands of the Dodecanese
Decide for one of the 3 selection areas
Now create your own individual tour. Click on the islands of your choice on the button with the relevant colour.
---
Our recommendations for island hopping Dodecanese Islands
---
You might like the islands from these suggestions. All you need to do is choose the hotels according to your needs.
For example: DODECANESE ISLANDS WITH ATYPALEA AND MORE
The most popular tour for island hopping Dodecanese islands: Rhodes | Symi | Kalymnos | Kos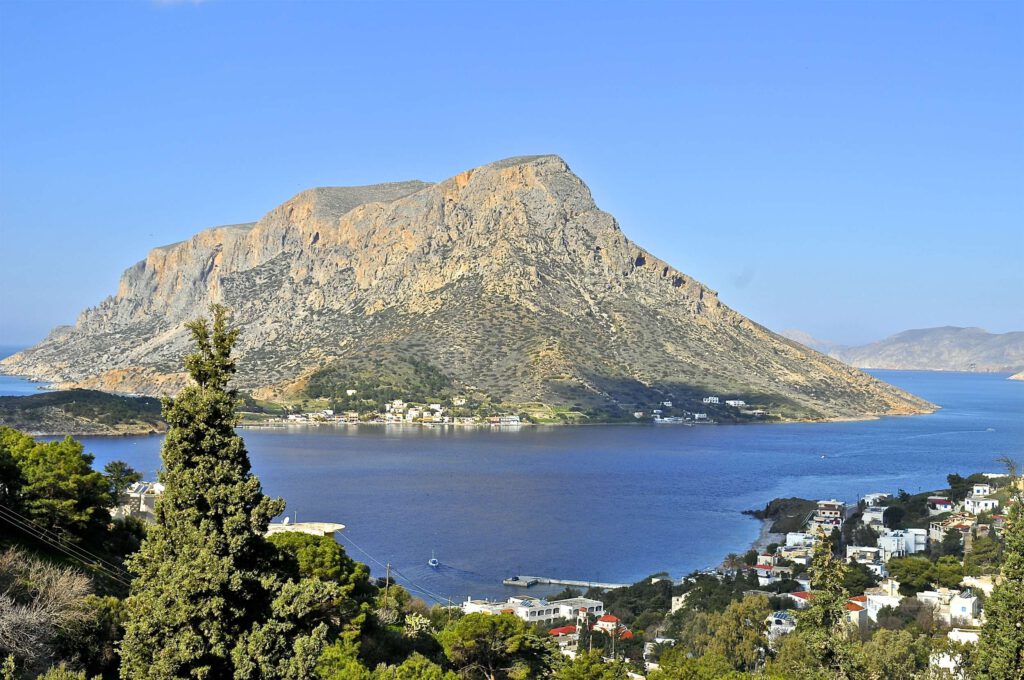 Sample blue islands where you only have to choose the hotels
If you too are wondering:
Which Dodecanese islands, which beaches, which regions?
For island hopping Dodecanese islands note the most popular and recommended combination:
Outbound flight Kos, onward to Kalymnos, Leros, Patmos, return flight from Kos.
Flights and ferries can be cancelled due to technology, wind & weather and strikes
We will assist you in such cases and arrange rebookings
Bookings directly with the hotels, without intermediaries
Almost untouched coasts and lush green mountain formations
Exceptional sandy beaches and Mediterranean evenings on 4 islands
Apocalypse on Patmos and the imposing fortresses of the Knights of St. John
Create your own tour without any obligations: All you need to do here is choose hotels according to your own needs. Island hopping will introduce you to picturesque and traditional islands around Rhodes and Kos. Decide what you like best and mix the hotels you want with days for relaxing, swimming and events in the Dodecanese.

IMPORTANT: Before you start choosing hotels for a combination, please read some important tips that will help you mix your tour:
You would like to design a different combination yourself? Then you can customise your tour here according to own needs:
Create individual tour by clicking on the blue box.
Flexibly mix your individual island hopping Dodecanese Islands in Greece…
… to a complete ⇓ tour by adding to the hotel also excursions for Culture, Adventure or Hiking days.
---
Suggestions for the green marked islands
When you also asked yourself:
Which Dodecanese islands of them, which beaches should I visit?
Well, read here a popular island combination
Round Trip Rhodes, Symi, Astypalea
If flights and ferries are cancelled or the timetable changes, don't worry
We will make all the necessary rebookings for you
Natural beauty Astypalea of the dwarf elephants and Symi with picturesque scenery
Price guarantee. Book directly with the hotels
Combining the historical old town of Rhodes and beautiful bathing days
Would you like to create a different combination on the Dodecanese? Then you can customise your tour here according to your own wishes:
Create personal tour by clicking on the green box.
Flexibly mix your individual island hopping around the island of rhodes in Greece…
… to a complete ⇓ tour by adding to the hotel also excursions for Culture, Adventure or Hiking days.
---
In case you are not yet familiar with Dodecanese or mix island hopping for the first time:
Ideas for Red
If you also ask here:
Which Dodecanese islands are interesting to see here?
Note the most popular and recommended combinations with flexible length of stay:
Outbound flight to Kos, on to Kalymnos, then to Symi, on to Rhodes and from there return flight
(or vice versa)
On the tracks of the lifestyle with lively traditions on endless beaches
Don't worry about flight and ferry changes or cancellations
We are at your side and will take care of everything so that you can continue to travel without worries
Bookings directly with the hotels, without intermediaries
Long sandy beaches with interesting testimonies of an eventful history
Regional culture, lively traditions & friendly islanders
A multifaceted island world with varied coasts
You would like to design a different combination yourself? Then you can customise your tour here according to own needs:
Create individual tour by clicking on the blue box.
Flexibly mix your individual island hopping Dodecanese around the islands of kos and rhodes in Greece…
… to a complete ⇓ tour by adding to the hotel also excursions for Culture, Adventure or Hiking days.
---
What offer islands of Dodecanese?
(For information about each island, please, click on each picture or numeration down.)
Dodecanese Islands
Background
In the South East of the Aegean, the sunniest part of Greece, is located the island group of Dodecanese. It consists of 12 main islands and numerous smaller islands. Each of them has its own unmistakable character. For island hopping there are charming sand beaches, hidden bays, excavation sites of big historical importance, gorgeous Byzantine and medieval monuments, traditional settlements and architectural memorials from the time of Italian mastery. All of these made Dodecanese one of the most popular travel destinations in Mediterranean area. The two biggest islands Rhodes and Kos are at the same time the most well-known, whereas Patmos, Leros, Simi and Kalimnos have preserved its traditional character, despite the increasing number of tourists. The rich history of Dodecanese begins many centuries ago. The pirate attacks, reign of St. John, Turks and Italians and finally the reunion with Greece in 1948. We know our way around and have been the island hopping specialist for the dodecanese islands since 1988.
Culture
A trip to Dodecanese is like a hike through the history, myths and legends that are alive until today. Walk on Ritter Street in the medieval city center in Rhodes. You will be overtaken by the feeling as if you suddenly met a knight. During a trip to Kos you can meet Asclepius, the God of medicine. The neoclassical settlements on Simi and Chalky remind living paintings, just like on Castellorizo, which is at the border of Europe. Every island is the expression of architectural inspiration. Culture plays a leading role on each island with many festivals and cultural events that are held on the highest level and can satisfy the most demanding guests. We are pleased to welcome our guests. You will get to know very valuable cultural traditions which appeared from a mixture of different civilizations that met on these islands.
Religion
The visitors of Dodecanese are seized with views and special impressions and would like to get to know and investigate inestimable value of culture and history of the islands. Everyone who would like to discover and follow the traces of Apostle Paulus can gain here experience for life. You can see the secret magic of the Revelation of St. John, "Jerusalem of the Mediterranean". Also you can admire the Bell Tower, as an example of big architectural mastery, which is located on the main square of the village. Because of impressive appearance, the churches are promoted to be the cultural heritage. Near the Orthodox Church, there are Catholic Church and further the Muslim mosque and Jewish synagogue. A little bit high in the mountain slopes of the island are located the chapels, so that the melodies of Byzantine music could be heard, as in religious tradition. A wandering visitor, who is looking for special and beautiful places with thousand year's old history, will find here hospitable and attractive surroundings.
Sport
The Dodecanese welcome brave explorers who are dreaming to combine vacation with breathtaking adventures. The wild beauty of the rocks in Dodecanese and the mysterious depth of the sea are a real challenge for travelers. Climbing the sharp mountains, diving in depth of the sea with long forgotten wrecks and by the north wind strengthened waves motivates visitors of our island to challenge and conquer the power of nature. The organized climbing and diving facilities together with endless beaches attract followers of these sports from all over the world. On the other side of our islands there is more "action", where you can find new friends. The islands of Dodecanese are a place of unique beauty and hidden secrets that are waiting for romantic and brave visitors.
Products and handicraft
This field can be proud for its folk culture that is obvious on every island and in every village in Dodecanese. The wealth of the island is produced masterfully and passionately by artists. The passion for art can be seen in paved valleys of medieval city on Rhodes, where every paving stone (called "chochlaki") is artfully fitted in. In the same way are our traditional settlements on small islands artfully restored and well-kept on Chalky, Castellorizo and Simi as well as manor houses on Kalimnos, Patmos and Karpathos. Even now by building "modern" houses a bricklayer becomes a folk artist and carves stones to preserve the architectural local character. Despite the modern time and new technology, some shipbuilders, bell makers, icon painters and leather molders still exist and pass on their knowledge of art to young colleagues. The textile and ceramics items in the household of our islands are small works of arts for our visitors, and also memories of our traditional life. Our folksy culture is alive and, as a part of our modern everyday life, represents authentic and permanent identity of our islands in the Aegean.
For Island hopping Dodecanese islands in Greece are: Rhodes, Kos, Kalimnos, Karpathos, Leros, Patmos, Simi, Tilos, Nisiros, Chalki, Kassos, Astipalea, Castellorizo, Lipsi, Agathonisi.
---
As a travel agency, we arrange this round trip with a tour operator after checking free availability and comparing prices. Or as a modular tour with individual services to different tour operators. In this case, you will receive the legally required insurance certificate from us and we will be your sole contact for advice before, during and after the trip. You will be able to see all the important information in the offer.
---