Discover with island hopping Greece and its known and unknown islands. But how do I choose Greek islands for island hopping that are also optimal to reach? And above all, with which group of islands do I start and where do I stop? You will find all the answers here. Before, during and also after the trip, you have only one travel consultant as your contact for all travel services booked with us for your tailor-made trip. We know where and coordinate your selection – you travel comfortably. Best hotel rates through direct bookings.
NEW & Exclusive – Our tour configurator for special travel combinations:
CHOOSE ISLANDS, HOTELS, ROOM TYPE & LENGTH OF STAY ACCORDING TO YOUR OWN NEEDS.
Don't worry – we coordinate the order of your selection
As experienced experts, we are your only contact partner for your island hopping in the event of changes to flights and ferries. And that, before, during and also after your trip.
Make island hopping Greece comfortable and carefree
Here are the island groups of Greece
|Cyclades|Crete-Cyclades-Athens|Ionian-Peloponnese|Dodecanese|Pelion-Sporades|Saronic islands| Halkidiki Thasos|North East Aegean
Island hopping Greece – Sustainable and away from mass tourism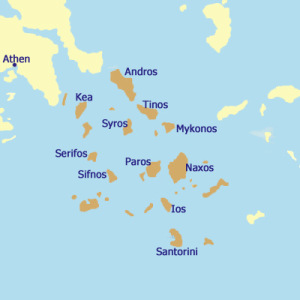 The Greek islands of Cyclades, also called "Pearls of the Aegean" or even "Islands of Lights" are about 210 in the archipelago. They are grouped in a circle around the once holy Delos and today's capital Ermoupolis on Siros. Island hopping offers a wonderful opportunity to combine visits and learn about the different characters of the islands.
The Cyclades are often seen as full of isolated monasteries, ancient windmills, bright white houses with navy blue painted windows and a unique light giving each island its own special style.
Experience the hospitality of Cyclades residents and let yourself be impressed by the exquisite beauty of this archipelago. The regular ferry service allows good conditions for a tour around the magnificent islands of the Cyclades.

The beautiful village of Oia is located in the north of Santorini. This magical place is known for its unique architecture and breathtaking sunsets. Enjoy the cafés and restaurants here with breathtaking views or in small alleys and marvel at white chapels with blue domes and the ruins of the Byzantine castle.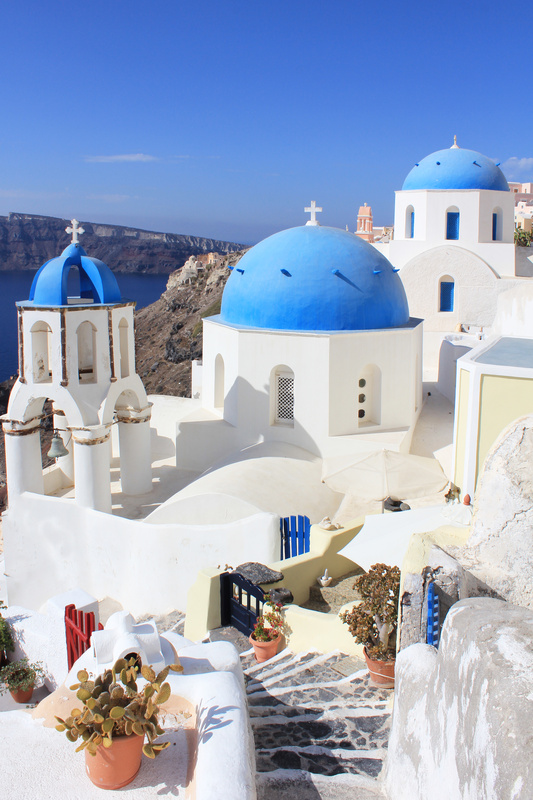 Individual travel information about Cyclades islands
Santorini – Mykonos – Paros – Naxos – Syros – Amorgos – Ios – Andros – Tinos
---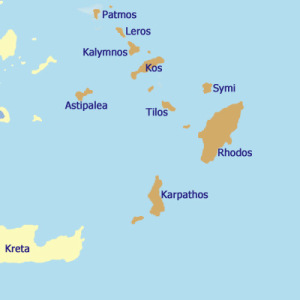 Nothing happens in nature by chance. The Aegean sea is the best place for travelers to experience natural majestic beauty. Choosing a trip to the Dodecanese islands could well become the best decision you've ever made: A fascinating and incredible journey will be waiting for you! Most of the islands and especially rocky islands were named by the inhabitants or sailors and inspired from shapes or character of birds and plants. The fertile grounds of Dodecanese allow exquisite plants to grow.
Gulls and seabirds inhabit the Dodecanese, which consists of thousands of small land pieces. The size, shape and landscape morphology variations of the archipelago are what makes the Dodecanese so exceptional. This blue and white canvas is a real present for those who decides to visit "The Diamonds of the Aegean" by island hopping.
Holidays on the Dodecanese is like taking on a trip through history and myths and legends that are still living to this day. Visit magnificent Rhodes, where you will be able to stroll around in the medieval city center along Ritter Street. You could have the very strong feeling, a honorable knight is escorting you. Take a trip to Kos, where you will meet Asclepius, the God of medicine. The neoclassical-styled houses of Simi and Chalky will certainly remind you of living paintings, just like Kastellorizo, which lies on the border of Europe. Every island is of a different architectural inspiration,but culture plays a leading role on every single island.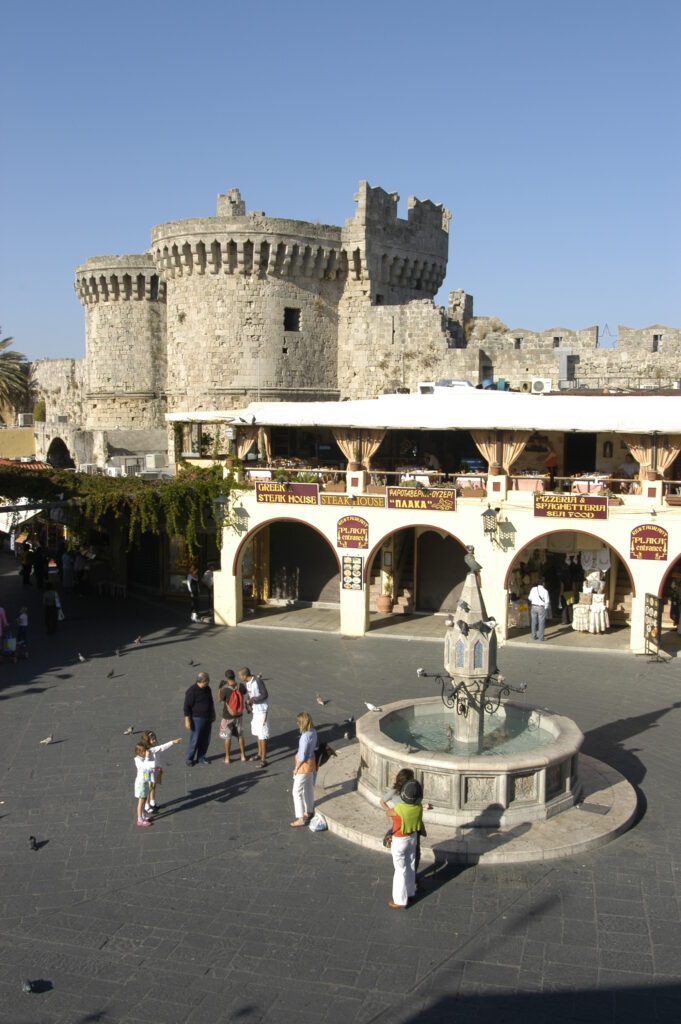 Individual travel information about Dodecanese islands
Rhodes – Symi – Tilos – Kalymnos – Leros – Patmos – Kos – Karpathos – Chalki
---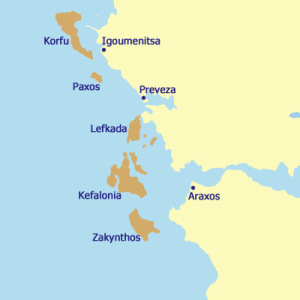 Now we want to take you to the beautiful and green west coast of Greece: To the Ionian islands and coasts, with the turquoise blue beaches.In addition, you will get the best expert tips for your perfect stay.
The Greek Ionian Islands are located on the Ionian Sea on the west coast of Greece. Islands like Corfu, Cephalonia, Zakynthos, Lefkada, Ithaca, Paxos and Kythira are partof those.
These islands are famous for their wonderful sand beaches, the crystal clear sea, typical villages and wonderful landscapes , strewn with olive and citrus trees as well as magnificent displays of flowers. Every island has its own character and its own magic. Every single visitor will get satisfaction (Unlike Mick Jagger) while visiting the archipelago.
The landscapes, peaceful coasts, wonderful shingle, the sunsets, narrow alleys, and the very specific Ionian architecture, as well as the antique monuments- these are all valid reasons for you to come visit us on the Ionian Islands!
Individual travel information about Ionian islands
Corfu – Paxi – Lefkada – Ithaca – Kefalonia – Zakynthos – Peloponnese
---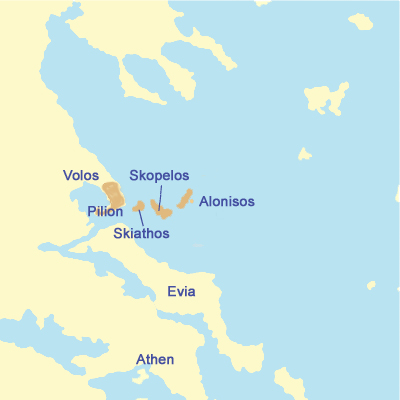 Discover while island hopping amongst the Sporades Islands the hidden beauty of Skiathos. If you ever decide to follow the steps of the great writer Alexandros Papadiamantis, then your way will take you through thick forests and olive groves. Nature lovers might give it a try and walk through the famous Koukounaries forest, behind the superb beach and carry on along Strofilia Lake (4.2 km long),but you may as well walk around the Kanapitsa peninsula (4.9 km). Feeling like experiencing religious contemplation? You might then want to walk the 7 km way from Skiathos to the historical churches (Evagelistrias Monastry and St. Charalambos, St. Apostolos and St. Dimitrios Churches).
Did you know that Alonissos is where the Mediterranean monk seals, one of the biggest seal species, come from? No? Then you may want to visit the National Marine Park of Alonissos, which supports the rescue of newborn seals.
Searching for a peaceful island to enjoy holidays with your family? Skopelos was made for you! Enjoy the wonderful smell of its pine forests, the crystal clear sea and its sand beaches. Want to try the famous cheese of Skopelos and a glass of home-made Ouzo in one of the taverns by the sea? Are you a movie fan? Follow the paths of the famous film "Mamma Mia"! Yes, that astonishing chapel on the rocks where the wedding took place really exists, and it is the chapel of Saint Ioannis on Skopelos.
On the Pelion peninsula, you will have the opportunity to watch the richly wooded mountains towering marvelous bays that will not only please snorkelers and divers. Pelion is one of the hidden paradises of Greece, where young discoverers, experienced travelers or just nature lovers can experience spiritually enriching holidays cut off from the main tourist attractions.
---
Individual travel information about Sporades islands
Pelion – Skiathos – Skopelos – Alonisos
---
As a travel agency, we arrange this round trip with a tour operator after checking free availability and comparing prices. Or as a modular tour with individual services to different tour operators. In this case, you will receive the legally required insurance certificate from us and we will be your sole contact for advice before, during and after the trip. You will be able to see all the important information in the offer.