Sailing Ionian
Destination airports
Zakynthos – Tuesday & Friday
Stay on Zakynthos before sailing and after on Lefkada.
Lefkada (Preveza) – Tuesday & Saturday
Stay on Lefkada before sailing and after on Zakynthos.
From Lefkada to Zakynthos (and vice versa)
Discover amazing bays on fascinating, green islands & coasts
Let us arrange a sailing tour especially for you. You will see from your first minutes on board on, how much efforts we put into the personalization of your trip. The experienced and English-speaking captain Babis will be at your disposal at any time during the whole cruise. If you wish, you may even be part of the crew. Captain Babis has been the owner of a sailing school for many years, which means he could teach you many things while sailing: if you want, you can be very active during the tour and learn plenty of sailing tips, or if you prefer enjoying the sun, wind and sea, this is possible as well. Only you decide where you want to sail to on the Ionian Islands in Greece.
[wpspoiler name="Inquiry here >>> Sailing Ionian islands" style="wpui-green"][wptabs effect="slide" mode="horizontal"][wptabtitle]Mix sailing and stay on islands[/wptabtitle][wptabcontent] This is an example of how you can mix a 
sailing trip around the Ionian islands
 with a stay on a few islands for 2 weeks:
Arrival on Saturday in Preveza, then on to Zakynthos (ZTH) with a boat, stay on the island and return flight from Zakynthos (or vice versa).
Arrival on Tuesday in Preveza, sailing journey to Lefkada, then on to Zakynthos, stay on the island, and return flight from Zakynthos (or vice versa).
The tour you will have chosen and mixed will be checked and flight, sailing and hotel reservations will be made accordingly to your dates!
[/wptabcontent] [wptabtitle]Only sailing inquiry[/wptabtitle][wptabcontent]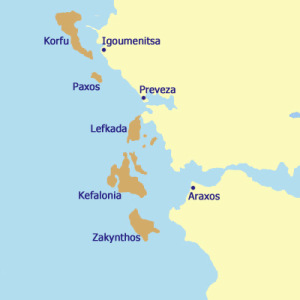 Starting dates for sailing:
(mid-May to mid-September)
Preveza – Zakynthos: Saturday 6 Nights
Preveza – Preveza: Saturday 14 Nights
Zakynthos – Preveza: Friday 8 nights
Zakynthos – Zakynthos: Friday 14 Nights
[/wptabcontent][/wptabs][/wpspoiler]
Sailing Ionian islands – An overview
Obviously the owner of the yacht has to be an experienced captain as well. Captain Babis will show you the most beautiful bays on your way and the typical, traditional taverns in idyllic bays or restaurants in dreamy fish ports. If Babis is not able to sail with you for this once, he will hand his S/Y Jenny to a trustful other skipper.
The optimal mixture of sailing and stay on the islands makes a sailing tour in Greece interesting for both kids and adults. We recommend you to combine the sailing trip with a stay on Zakynthos or Kefalonia for example (depending on the flight). By doing so, you canbenefit of all the advantages of a sailing week, during which you will discover incredible places, beaches or bays, and can afterwards relax one week in an hotel on the island you will have chosen, and learn more about the history, people and culture of the island.
Breakfast is served on board, and is included in the price. Other foods and drinks can be bought before departing or on the following morning. There is, of course, a fridge on the board. Lunch can be prepared individually in the kitchen on board. You can visit typical taverns and restaurants and enjoy traditional Greek cuisine with regional products in the evening. If you wish, you can have dinner on board and admire the starry sky and the port while eating on the yacht!
Sailing Greece
An example of sailing trip around the Ionian Islands from Zakynthos on
1st day. Sailing Greece – Island Zakynthos
Arrival at the airport of Zakynthos. Our sailing yacht will be waiting for you in Saint Nikolaos. Depending on the arrival time of the last guests, we may visit grottos and start sailing right away towards Kefalonia.
2nd day. Sailing Greece – Island Kefalonia
Along the coast, which has magnificent sand beaches in the South and silica beaches in the East coast, we will approach the small port of Sami. From there on, we recommend to take a trip to one of the most beautiful bays of the Mediterranean Sea: Myrtos.
3rd day. Sailing Greece – Island Ithaca
Ulysses needed 10 years to find the way back to his island. However, we will need only half a day to reach the island rich of its amazing untouched nature & beaches.
4th day. Sailing Greece – Island Kalamos
This island is spared from mass tourism and offers relaxation for solitary travelers. The marvelous bays of Myrtia and Asproyiali are not far from the port of the island.
5th day. Sailing Greece – Island Meganissi
The two small ports of Vathi and Spilia are waiting for you with their magnificent bays.
6th day. Sailing Greece – Island Lefkada (Lefkas) & Scorpios (Skorpios)
The private island of the famous shipping magnet Onassis, and one of the most beautiful bays are waiting for you at the ending point of your sailing trip.
7th day. Sailing Greece – Lefkada/Preveza
At the end of your sailing week, you will be able to visit a local tavern. You can book your return flight from Lefkada, or a longer stay on the island with us.
About S/Y Laura or S/Y Jenny
You will be sailing on a classic Perry 47 yacht . It was built especially for the owner, so that the division of cabins is very spacious. You will sail with a maximum of 7 other passengers, so there remains a lot of space for privacy.
The living room offers a cozy and stylish atmosphere, with a comfortable sitting corner and a big bar table. In the back cabin is a bedroom with a king-size-bed (1,80*2,00) waiting for you. This cabin is also adapted to families with small children. The front cabin has enough space for two people, and near each cabin is a shower room with wash basin and toilet. As an extra sleeping place (if needed), there is a pull-out double bed in the living room, and a single bed near the navigation corner.
As a real "Old-timer", the yacht is overhauled and updated by the owner every year. Despite the necessary modernization, we did our best to keep the uniqueness and the classical style on board.
Maximum capacity: 3 double cabins, 2 bathrooms, a kitchen.
Breakfast on board, or outside depending on the weather, and tour on the beach. The wishes of the guests cannot be possibly always fulfilled.
Not inclusive: Tips for the captain are not obligatory.
Extra costs: You will have to pay a single fee of 50€ per person and week (20€ for kids under 14 years old) into an on-board cash box. This money will be used to pay the fuel, the insurance, the local taxes, port taxes, the charges involving the bed linen, the water and electricity bill, as well as food on board.
Important tips: Changes in the route can occur, due to bad weather conditions, or unexpected matters. In this case, the captain makes a decision himself. The minimum per boat are 4 full-fare passengers.
Price list* for one person in one double cabin:
| | | | | | |
| --- | --- | --- | --- | --- | --- |
| May | June | July | August | September | October |
| 460 | 460 | 500 | 500 | 500 | 460 |
*Prices are indicated for one week sailing inclusive breakfast per person, from /to port of Lefkada/Preveza.
An extra stay on Zakynthos or Lefkada is also possible, and you can mix a sailing trip with island hopping. All the prices are in Euro.
Price inquiry: Click on the green frame "Sailing the Ionian Islands inquiry here" (free of charge)
As a travel agency, we arrange your trip after checking the availability of tickets and places and comparing prices with the travel agency Arkadia or others.