Sailing Cyclades
Destination airports (From many European airports from April to October)
Santorini – almost every day.
Return flight from Athens is possible (sailing week starts every Saturday), for example, a couple of days on Santorin and Naxos, sailing, return flight or some days in Athens.
Athens – almost every day.
Return flight from Santorin is possible (sailing week starts every Saturday), for example, stay in Athens, sailing and after some days on Naxos or/and Santorin.
[wpspoiler name="Inquiry here >>> Sailing Cyclades islands" style="wpui-green"][wptabs effect="slide" mode="horizontal"][wptabtitle]Mix sailing and stay on islands[/wptabtitle][wptabcontent] An example how you can mix sailing Cyclades with stay on islands for 2 weeks: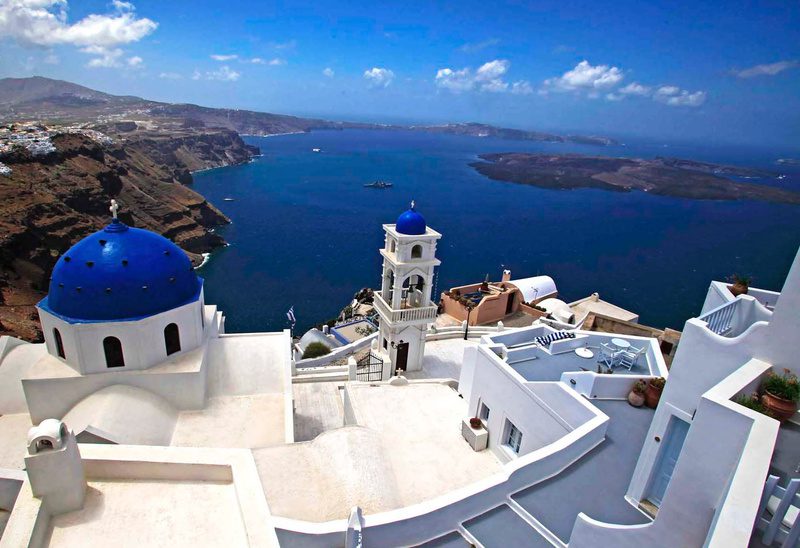 Arrival on Saturday in Athens, sailing journey to Naxos, stay on Naxos or/and Santorin and return flight (or first to Santorin and then return flight from Athens)
Arrival on a working day in Athens, stay in Athens, sailing journey and stay on Naxos and Santorin and return flight (or first to Santorin and then return flight from Athens)
The tour you chose and mixed will be checked and flight, sailing and hotel reservations will be made accordingly to your dates!
[/wptabcontent] [wptabtitle]Only sailing inquiry[/wptabtitle][wptabcontent]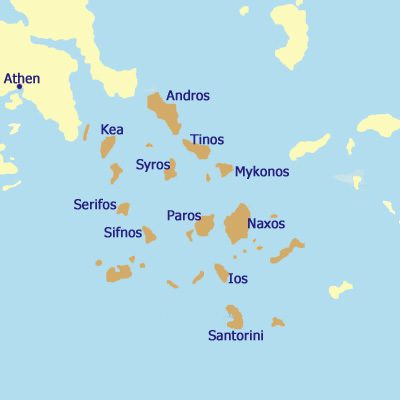 Starting dates for sailing:
(beginning in April until the end of October)
Athens – Naxos: Saturday, 7 Nights
Athens – Athens: Saturday, 14 Nights
Naxos – Athens: Saturday, 7 Nights
Naxos – Naxos: Saturday, 14 Nights
[/wptabcontent][/wptabs][/wpspoiler]
Cyclades – Greece's best side
Included services
1 or 2 weeks sailing on the boats Sun Odyssey 52.2 (may change)
• Sailing guidance
• Miles confirmation
• Insolvency insurance of organizer
Features & Tips
• Active/passive sailing journeys on a modern yacht with skipper
• Groups of max 8 people allowed on board of a spacious boat with 5 cabins
• Sailing knowledge or previous experience not required
Tips & Information about dates and prices for a trip around the Cyclades
Cyclades trip A Athens – Naxos from 565, – / week
Cyclades trip B Naxos – Athens from 565, – / week
| | | | | |
| --- | --- | --- | --- | --- |
| Tour number | Start | | Price € | Tour type |
| Special trip Easter | 2023 folgen im Januar | 8 = 7 | from 565,00 € | |
| KYK 1418 | 2023 folgen im Januar | | € | A |
| KYK 1419 | | |  € | B |
| KYK 1420 | | |  € | A |
| KYK 1421 | | |  € | B |
| KYK 1422 | | |  € | A |
| KYK 1423 | | |  € | B |
| KYK 1424 | | |  € | A |
| KYK 1425 | | |  € | B |
| KYK 1426 | | |  € | A |
| KYK 1427 | | |  € | B |
| KYK 1428 | | |  € | A |
| KYK 1429 | | |  € | B |
| KYK 1430 | | |  € | A |
| KYK 1431 | | |  € | B |
| KYK 1432 | | |  € | A |
| KYK 1433 | | |  € | B |
| KYK 1434 | | |  € | A |
| KYK 1435 | | |  € | B |
| KYK 1436 | | |  € | A |
| KYK 1437 | | |  € | B |
| KYK 1438 | | |  € | A |
| KYK 1439 | | |  € | B |
| KYK 1440 | | |  € | A |
| KYK 1441 | | |  € | B |
| KYK 1442 | | |  € | A |
| KYK 1443 | | |  € | B |
| KYK 1444 | | |  € | A |
| KYK 1445 | | |  € | B |
Price inquiry: Click on the blue frame "Sailing Cyclades islands inquiry here" (free of charge)
Sailing Cyclades
The bright white houses, chapels and churches contrasting with the deep blue sea and incessantly bright sky might seem to you what Greece looks like on postcards. But this really is how the Cyclades look. In former days, this part of Greece was a favourite destination among backpackers. Amongst more than 200 islands, only a few of them are known by the tourists; but there also exist untouched islands and small bays which can be reached only with a boat. The warmth of the inhabitants and the atmosphere in taverns in the small ports have always made a great impression on their visitors.
The sailing area: The landscape of the Cyclades is rich in contrast. Additional to very barren islands like Mykonos, Kea, Antiparos, Folegandros or Delos are surprisingly green and fertile regions like on the islands of Naxos, Paros or Amorgos. The whole island is blooming in spring, turns green as an attempt to escape from the cold rest of Europe. The best temperature for swimming is in May, but as early as in March and April is sunbathing possible, and greatly enjoyable.
The islands are rather close to each other, which gives you the opportunity to choose between many variations for a sailing trip. Sometimes, you have to accept that the wind decides where you're going to sail to next. However, the main wind direction (northeast) plays a big role, so trying to gain the east is sometimes one big of a challenge. There are however more possibilities than we think. The Cyclades are a very windy area, but the strength of the winds in the last years were rather average. Plus, you will get to know our yachts, and see how confident they sail.
Naxos can constitute either the beginning or the end of many tours. The sand beaches are stretching for miles and hiking in the depth of the island with its typical, small mountain villages are really worth of seeing.
Naxos is easy to reach from Piraeus or Rafina with a ferry, or by plane from Athens. However, pay attention that the schedule of your flight should adjust to the ferry or flight schedule in Greece. We can book ourselves an hotel for your stay on the island.
Cruise offers on Cyclades
Cruise A: Starting from Athens, sailing journey to Kea, Kythnos and finally Syros; Mykonos and Delos can be included. From Paros, sailing journey to Naxos, the ending point of your seven-days trip.
Cruise B: Starting from Naxos, sailing journey to Sifnos, Serifos and Hydra, until the Saronic Golf. Poros and Aegina can be visited from here. You can combine cruise A and B for a fourteen-days trip around the Cyclades. The starting and finishing point will however remain the same. The starting dates for cruises A and B are to be found on this page.
The description of the cruises above are only sketched out possibilities. The skipper will alwayshave a last word about the sailing route on-site, depending on the circumstances (wind, weather, crew, etc.) around the departure of the boat.
Additional costs: Flight prices start from approx. 200, – € and can be booked with us.
Boarding costs: depending on expenses, approx. 150, – € per week and person, the skipper is kept free of charge.
On-board cash box: approx. 40, – € per week and person for diesel, water, port taxes, gas etc. This must be paid on-site.
Max. capacity of the boat: max. 8 person (min. 2 passengers) + crew, placing in double cabins, the living room should be kept free.
Arrival (in the case the flight was booked separately)
Please pay attention to the schedule of the flight. If there are any changes in the schedule once you have received the tickets, you should refer to the new schedule. In this case, you will be informed about it. The check-in service opens 90 minutes before the departure. Your return flight might need to be confirmed 48 hours before the flight, depending on the airline.
The sailing journey on Cyclades
On the day of your arrival, you can board the yacht from 17.00 o'clock on. If you happen to arrive earlier, you have the opportunity to get your luggage on board, have a nice walk around, or go shopping for a bit on the shore. On your last day on board, you will have to leave the yacht before 10.00 o'clock.
You will first get to know the skipper and the other passengers once you're on board. You will discuss the route of your trip, listen to a briefing from the skipper about the yacht, create the on-board cash box, and make a grocery shopping list.
The cash box will be used to pay the groceries, the fuel, the port taxes etc. The skipper is not paid by the passengers and must not contribute to the cash box. Your meals at the restaurants cannot be paid from the cash box. The first grocery shopping will be on the day of your arrival, or in the morning, on the following day. The passengers should take care of the cooking, cleaning and shopping themselves.
You will spend the nights in the different ports, or anchored in the bays. Wind and weather also contribute to changing the route of the cruise. Therefore, the described routes in our brochure are not definite. The crew together with skipper can decide to change the route of the cruise depending on weather and other circumstances.
As a travel agency we arrange your trip after checking the availability of tickets and places and comparing prices with travel agencies like Arkadia or others: